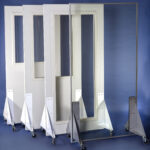 ​Stralskydd RSE AB provides a wide variety of x-ray protective barriers:
Stralskydd RSE AB produce mobile x-ray Shields on wheels.
There are x-ray screens with or without lead glass as well as screens totally in glass.
The x-ray screens are designed to be able to fit together and make a wide buit safe larger barrier. Sizes are mentioned in mm and can be produced in customized sizes too.
Fixed foldable barrier
We customize the foldable barrier as of your requested size.
It can be produced with or without wheels.
Mobile foldable x-ray barrier / Flexi-roll-stand
The product Flexi-roll-stand consist of lead acrylics and is a flexible solution for the working team that needs a barrier that can easily fold and be moved. On the following link you can see a demonstration.
Fixed x-ray barriers make the workflow efficient as the team does not have to open and close doors at every image shot.
We need a dialogue about the barrier and a bref drawing for a start. The fixed x-ray shielding solution will be built from the needs of the room. Some common questions are:
How big shall it be?
What lead equivalence is needed?
With or without glass and size of glass?
Shall it be fixed to the wall or standing in the room?